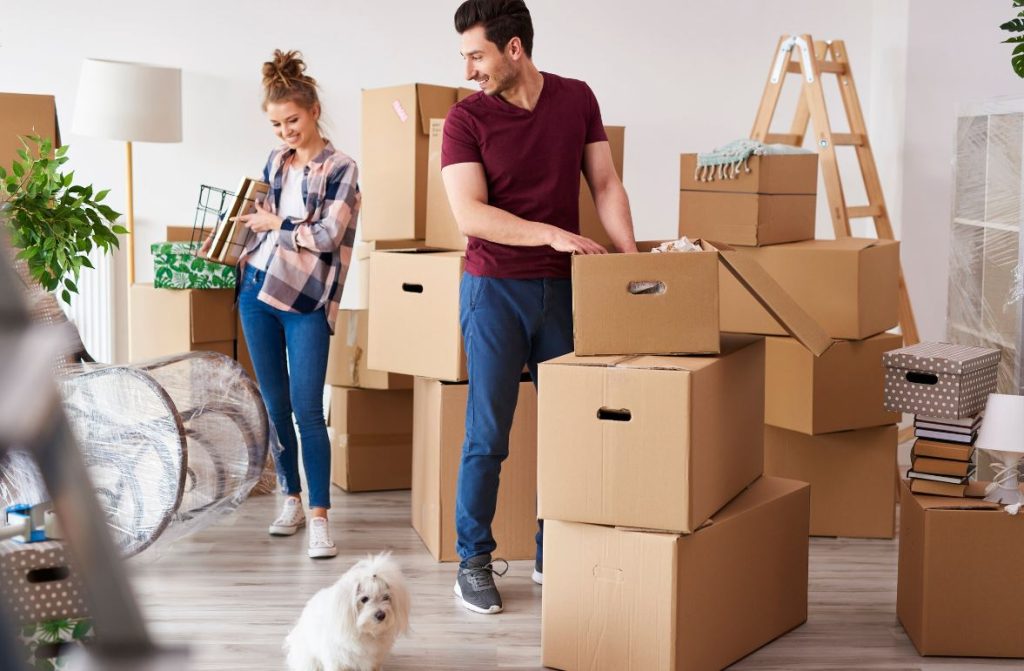 The move from your current home to your new one is going to be one of the most exciting and nerve-wracking experiences you'll ever go through. Whether you're moving across town or the country, it's a big step that will require a lot of prep work. Not only do you need to furnish your new home with all the essentials, but you also need to get everything packed up in your old home and ready to ship out on moving day.
Luckily, some things can help make this transition much easier than it would otherwise be. Trust us, we've been there. Moving is stressful under any circumstance, but following these tips can smooth the process and help you feel confident moving into your new home with ease.
Organize Before You Move
The first step to moving is organizing your stuff. This may seem obvious, but the organizing process will look different for every person. Some people will want to organize everything neatly before they pack it up, while others will prefer to just throw everything into boxes as they clear out their houses. 
No matter what your organizational preferences are, it's important to get everything in order ahead of time so that packing up and shipping items to the new place go smoothly. If you have kids, this process will be a little more complicated. 
Make sure to have open communication with your kids about what they'll need to do with their stuff so they know what to expect during this time. Another important thing to do while organizing is to check for damages or items that may need to be discarded. You don't want to throw away an item only to realize you need to keep it when it's too late.
Hiring Professional Help is Worth the Money
While it is possible to do everything yourself, we don't recommend it for your first move. First of all, it's dangerous to attempt to lift and pack heavy items yourself. Second of all, it's just not worth the time and effort when it's easy enough to hire professional movers. We've been in your position before, and we've spent too many hours moving things ourselves. 
We've made too many trips back and forth to the storage unit and spent too many hours standing in a hot garage boxing things up and lifting heavy items. If you hire professionals, they will do all the heavy lifting for you. They will pack up all your belongings for you, load them on a truck, and even unload them for you at the destination.
Create a Moving Calendar
One of the best things you can do to make the move go smoothly is to create a calendar. On your calendar, schedule every single thing you need to do related to moving. This will help you stay organized and make sure you don't miss any important steps. 
Make sure to block off time on your calendar to pack up your things, get them ready to be shipped out, and clean out your house before you move. It may seem like a lot of time, but you'll be surprised at how quickly it goes by. 
You'll also want to make sure to schedule time on your calendar to go to the doctor and get any vaccines you may need before you leave. After all, you don't want to be stuck in a new location with an injured back from lifting heavy boxes and no easy way to get medical attention.
Get the House Ready to Be Packed Up
Before you start packing up your things, make sure the house is ready to be packed up. This includes things like removing valuable items from the walls or shelves, covering exposed outlets, and taping off any areas that need to stay clean. 
You may also want to consider hiring a cleaning service to help get the new house in tip-top shape before the big move. This will free up your time and energy and help you feel confident moving your belongings in. 
Even if you are doing the packing and unpacking, you still want to make sure to keep the area clean so you don't track mud, dirt, and other debris into the house during the move.
Hire a Professional Moving Company for Your Move
Moving is an exciting time, but it can be stressful and tiring as well. Make sure you're prepared by following this moving checklist and organizing your house before the big day. 
Furthermore, make sure to stay hydrated and take breaks throughout the day to avoid injury. Keep these tips in mind, and you'll be sure to have a smooth transition into your new home!
Get in touch with People Move Moving. We are a full-service moving company licensed throughout Kentucky and Indiana including the Louisville and Indianapolis areas. 
Contact us today!
Hire Movers As Early As Possible
The hottest months of the year is the peak season for moving companies. Unsurprisingly, it's also the most expensive time to move. Everything from packing to moving trucks is in high demand so you'll likely have to pay more to move during the summer months. It can also be difficult to book movers on your target date as others may have booked it already. 
If you're planning to move this summer, book your movers as soon as you can and let the pros deal with the stress of moving under the full-blast summer heat. 
The summer can be notoriously hot so make sure you dress for the weather. This may not be the most important piece of advice you'll hear, but it will help make your summer move easier. Wear lightweight and breathable fabrics. If they are loose-fitting, the better. Try to wear white or light, neutral colors too. 
You'll be sweating a lot if you're moving under the summer heat. That's guaranteed and there's nothing you can do about it. Be sure to keep plenty of cold water on hand for you and your movers so everyone can stay hydrated. Your skin will be constantly exposed to the sun so you may want to use some sunscreen too! 
Your electronics can't handle extreme heat so be extra careful when packing them. They should be marked in their box and loaded onto the truck last and unloaded first. Better yet, take your electronics with you just to be sure. 
The Don'ts of Summer Moving
Bad moving experiences usually result from a lack of preparation. You should plan and prepare at least a month before your moving day. This will help prevent stress, lost or damaged items, or even injuries from happening. 
You'll also want to book your movers at the earliest possible time. Most people move during the summer months so be sure to book them in advance. 
You'll likely have to pay more if you move on a weekend. Summer weekends are in extremely high demand so it's not surprising that moving companies may charge a premium. Schedule your move to a weekday to avoid paying more and the heavy traffic on a summer weekend. Most importantly, don't move on a holiday weekend as the roads can be very busy with parades and activities. 
Moving isn't something you should do alone, especially when you have a lot of items to move. There are risks to moving heavy items so try to ask for help from your friends and family. Plus, it can make your move an enjoyable experience. 
Keep Your Cool: Move with People-Move Moving
The harsh temperatures of the summer can make your move exhausting. So why not let the pros handle your summer move? People-Move Moving has some of the best movers in the Louisville, Kentucky, and Indianapolis areas. Whether you're looking for commercial or residential moving companies in Louisville, Kentucky, and Indianapolis, People-Move is here to help.